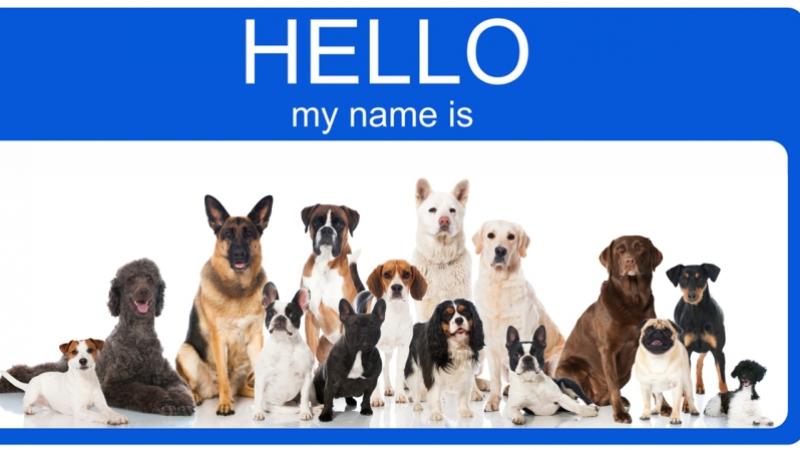 17 Dec

Hello, my name is………

So you just got a dog, so what should you name him or her? It depends, if a puppy, make it a fun family activity , base it on Personality, a special thing they do, or maybe a birth mark or fur color. Some people name their dogs human names like Steve, Joe, or Lucy. They say people do this as that person was dear to them and is something very special and personal. Others get cute, like Waffles,  Beef or Mr. Wigglesworth. If you have a favorite team, and are dedicated , name the dog after that, like Dallas, Jet or Jeter. Add that personal touch. You can change a dog's name especially a rescue or stray as they're most likely came from a bad situation and associate their name with evil or sadness. A new name will bring joy and positive reinforcement. Just say the new name and reward over and over and they will respond! You can also go with the most popular dog names like Bailey, Max, Charlie, Bella, Molly or Daisy, but keep in mind if it is a common breed like a lab, and  you attend doggie daycare, you may have 3 labs named Bella. Can get confusing so maybe also add a nickname like  Bella Boo, or Chella Bella and get them used to that too. advise the daycare and or boarding house to be sure you go home with the right dog!!

Naming a dog is fun, and yes we all haven at least 10 nicknames for our dog, just happens, but whatever you do be real, don't  name him stupid, dumb or a profanity. This is a part of your family and no one wants to be named this. Keep that to yourself, as you would a brother, or cousin. I once knew a dog named tater tot! Was a bull dog and all because he likes tater tots and was round. Whatever floats your boat, and keeps your dog responding, name away!  Just be sure all legal paperwork matches and will fit on a tag. Happy naming!!